Dr. Seria
Chatters
Assistant Vice Provost for Educational Equity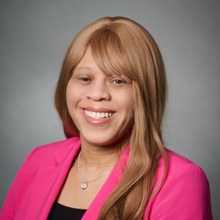 Dr. SeriaShia Chatters is the Assistant Vice Provost for Educational Equity and an Affiliate Associate Teaching Professor of Counselor Education in the Department of Educational Psychology, Counseling, and Special Education at The Pennsylvania State University. Dr. Chatters is the Co-Chair of the College of Education's Diversity and Community Enhancement Committee and Equity Team. 
Within the Office of the Vice Provost of Educational Equity, Dr. Chatters leads the Office of Scholars Programs, the Bias Reporting Network, and the Campus Access and Success Grants and Equal Opportunity Planning Commission (EOPC) Seed Grants. Additionally, Dr. Chatters is a liaison with the Development Office and supports the Commonwealth campuses and collaboratively organizes and facilitates equity-centered professional development across the Commonwealth. Dr. Chatters also serves as a Co-Chair for the Advisory Committee on Policing Communities of Color and a member of Community and Campus in Unity. 
SeriaShia Chatters has a Ph.D. in Curriculum Instruction and Counselor Education from the University of South Florida and has served as a faculty member, administrator, and researcher. Her academic scholarship focuses on the impact of diversity on interpersonal violence with a specific focus on preventing bias-based forms bullying and harassment in secondary, postsecondary, and work settings.