Angelymar Peralta
Torres
Student Success Counselor, Serving Talent Search York, Edgar Fahs Smith STEAM Academy
Phone:
717-849-1240 x 2215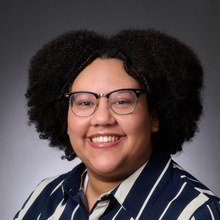 Angelymar began her experience with the Penn State Talent Search Programs in 2019 when she interned at William Penn Senior High School providing services to students and focusing on ESL communications. After graduation she was employed by a non-profit as a life skills counselor for foster youth as well as a transitional living assistant with the Milton Hersey School before returning to the team in 2022 as the primary counselor servicing the eight middle schools within the School District of the City of York. Angelymar is originally from the Dominican Republic and after moving to the United States, navigated her secondary school career as an ESL student. She continues to have a passion for working with students and their families with similar experiences and getting to know where they come from. Since being hired, Angelymar has also been able to use that passion to assist with one to one and program-wide translation projects. She has quickly become an asset to the bilingual counseling team. Apart from getting to know the students and families, Angelymar's favorite part of the job is utilizing field trips as an opportunity to showcase the wide variety of careers, education, and training available to students.
Education
The Pennsylvania State University, B.S.
School Information
School District of the City of York
Additional office hours also held at the other middle school's she serves.