George
Tatone
Student Success Counselor, Serving Clairton Middle-High School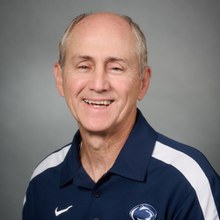 George Tatone began his career with Penn State Talent Search as the first full-time counselor to be based out of Clairton Middle School/High School in 1998. Though the location of his office has changed several times, you can still find him there in his primary role of serving students, some of which are children of the first few graduating classes he had at the beginning. As Talent Search grew to include two more grants, York and McKeesport, so did George's role and in 2016 he became the Lead Counselor. Now he spends time each month supporting other programs and counselors wherever needed. Because of this he gets to do his favorite part of the job, getting to experience student success first-hand, across Pennsylvania.
Education
The Pennsylvania State University, B.S.
Indiana University of Pennsylvania, M.A.
School Information