Mentorship Clearinghouse
The Clearinghouse provides faculty and University leaders easy access to mentorship-related best practices, scholarly research and mentoring programs that have been implemented by Penn State's peer and aspirational peer institutions.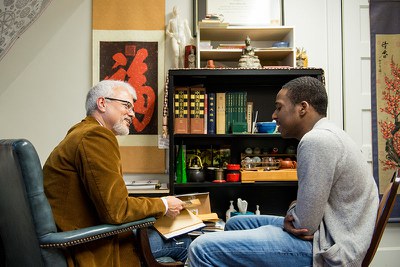 It also features resources to facilitate the creation and maintenance of mentoring communities that best support underrepresented racial and ethnic minorities, those with disabilities, women and other marginalized faculty groups.
Community building for success is at the essence of the Faculty Mentorship Clearinghouse. Its content will expand as it is updated with new items that encourage Penn State colleges, campuses, departments and senior faculty to be more intentional about how we include and support our diversity of colleagues:
The Clearinghouse is not an exhaustive inventory. Items placed in the Clearinghouse are reviewed by Faculty Pathway's Senior Faculty Mentors and selected for your consideration. Comments and recommendations for additions to the Clearinghouse content are welcome and may be emailed to seniorfacultymtr@psu.edu.
The Benefits of Mentorship
Traditional mentoring in academia is often defined as a relationship in which a more senior scholar offers knowledge, career-related advice and professional guidance to those more junior. The goal of the relationship is to support the ability of more junior scholars, early- and/or mid-career, to navigate the workplace and build a record of achievement that facilitates advancement. Relationships need not mirror this traditional form. Increasingly, institutions in both private and public sectors are establishing mentorship variations such as multiple mentors, network and group mentorship and rotating mentor relationships.
Mentorship relationships, regardless of form, are integral to faculty career accomplishment. Scholars are most innovative and productive when they are a part of a vibrant, supportive and diverse intellectual community where ideas are freely exchanged and shared with encouraging colleagues.
There are other benefits to mentorship, especially in predominantly white and cisgendered university settings. Purposeful mentorship can create and sustain an inclusive intellectual workspace, where racial/ethnic minorities and others marginalized (e.g., women, international faculty, those with disabilities, LGBTQ+) can build professional and/or social connections to colleagues that otherwise may be a challenge to establish.
Productive Mentorship
Intentionality is also fundamental for productive mentorship. We know from our personal lives as parents, partners, neighbors and friends that healthy and good relationships require attention, commitment and intentional effort from those involved. The same is true in our work environment relationships.
Productive mentor/mentee relationships are not unidirectional, nor are they simply common sense. Good connections demand that mentors and mentees work to maintain an open dialogue, build trust and practice mutual investment of time and attention. Mentors impart professional expertise, advice and constructive critique of elements related to career advancement. At the same time, fellows are expected to offer their own ideas, perspectives, knowledge and experiences that enhance the interests, concerns, projects and goals of both parties.