Social Media Avatars
The Nittany Lion shield is used consistently to ground all social media avatar designs in the Penn State brand architecture.
Penn State Social Media Avatars
The Penn State Avatar guidelines are intended for all official Penn State social media accounts. These guidelines aim for brand recognition, design consistency, and credibility. Achieving all three goals protects and elevates the University's image and reputation, while providing many avatar options to select from.
Category 2 avatars are intended for all colleges, schools, departments, units, institutes, centers, and administrive offices at Penn State. For more information on Penn State Social Media Avatars, visit the Penn State Brand Book website.
Category 2 Avatars
Visit
Master Downloads 
on the Penn State Brand Book for a comprehensive listing of Category 2 Avatars.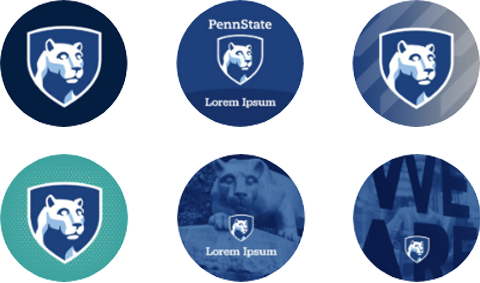 (Sample of Category 2 Avatars.)
---
Social networking sites allow people to share text, pictures, videos, and updates with their friends, colleagues, and organizations. If your unit wishes to include a social media experience to engage your audience, contact the Marketing Communications Specialist for assistance in developing a presence for your office.
Penn State uses various forms of social media as a way to communicate with its many audiences. In order to accomplish this, Penn State and its campuses, colleges, and departments have official social media accounts, including but not limited to, Facebook, Twitter, Linked-In, blogs, etc. These accounts are only to be used for the purpose of communicating and promoting an individual college, campus or unit as well as the University at large, and are under the jurisdiction of the University. As such, they are subject to all applicable University policies. Misuse of official social media accounts by an employee, including posting racist, sexist or other discriminatory posts, can lead to disciplinary action.